Herrmans Cargo Bike Selection
Cargo Bikes are a growing segment at Herrmans Bike Components, and to make the choice easier for you, we have picked out our favorite items from our range of lights, grips, reflectors and rim tapes. These will fit modern  cargo bikes perfectly.
Bike lights
Visibly ahead with Herrmans Nordic Series – our next generation light family. Sophisticated and modern design, with sleek looks that fit today's e-bikes. Certified to all European bicycle light standards. All lights in the Nordic series are IPX4 certified.
Front lights

Nordic Xtreme and Nordic Pro
For professional cargo bikes, or when you want the best of the range! Nordic Xtreme features a high- and low beam function, while Nordic Pro is the identical twin, but with low beam function only. Suitable for all e-bikes 25km/h-45km/h. Robust glass lens offers extremely good UV- and scratch resistance. Low beam: 650 lumens / 120 lux, high beam: 1100 lumens / 250 lux.
MR10 and MR10+ (available from 2024)
Next level in the Nordic Series are MR10 and MR10+. Light output 80 lux, and MR10+ includes a high-beam function with 120 lux. The high-beam  is optimized for urban surroundings, giving extra visibility and safety. Non-dazzling lights with sharp cutoff line, homogenous and wide light patterns.
Nordic MR9
A favorite urban front light with 60 lux. MR9 has a very pleasant and efficient light pattern, and offers great light value for money. The perfect companion for added safety in urban surroundings.
---
Rear lights
Nordic Trace Plus is the latest addition to our rear light portfolio. Sleek, modern design and with break light function included.
H-Trace Mini is another good choice in case you need a more space efficient rear light.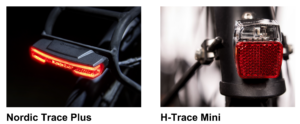 ---

Grips
Nucore Biobased Grips
Launched at Eurobike 2023, the Nucore Series is the latest addition to our portfolio. Made of a mix of biobased TPE, TPE, natural fibers and recycled polypropelene they are an important step ahead in our quest to reduce our dependence on fossil based materials. Nucore Tour comes with an ergonomic mini-wing and the bigger wing of Nucore Town offers the most support for the hand. Great design, developed in collaboration with hand ergonomy experts, this range is really our first choice for modern Cargo bikes and sustainability aware end consumers.
Clik Cork 
Our best selling grip Clik made with cork material! Comfort, support, sustainability combined in a warm, great looking grip! Fits well together with other wood components on cargo bikes, or as a nice detail matching to black or brown parts.
Sturdy Comfort Grips: Primo and Altro

Robust ergonomics with our recent grips Primo and Altro. Mini-wing grips with good hand support and great looking details.
---
Chainguards
Fuse is a recent chainguard made of recycled ABS plastic, which has a 90 % lower carbon footprint than regular virgin ABS plastic. Sleek and stylish, Fuse consists of two separate parts, the chain ring and the chain cover tail. This modular feature makes it easy to adapt to many bike models.  Available in 38T and 42-44T size.
---
Reflectors
Durable reflectors that are instantly noticeable. Visibility increases safety – extra important when you are transporting precious cargo and have a bigger bike to handle. We offer a selection of our K and Z certified reflectors that fit all types of bicycles thanks to the many assembly options.
HERRMANS® FR-7 is a minimalist looking and versatile front reflector that fulfills all EU road traffic regulations and covers also China and India.
HERRMANS® BR-7, a sleek rear reflector fulfills all EU road traffic regulations, covering also China and India. HERRMANS® BR-8, a larger model rear reflector, also fulfills all EU road traffic regulations.

---
Rimtapes
Herrmans is the leading rim tape manufacturer in the world with a collection that includes several levels of pressure requirements and different types of wheels. We even dare to say we have the best pinch resistance in the world!
Our Bike Rim Tapes HPP are extremely light, with Herrmans' revolutionizing Wing Technology, which makes mounting fast and easy. The Wing Technology gives enhanced flexibility while retaining rigidity in the center for high pressure resistance. It is made of polyurethane with maximum pressure of 8 bar/116 psi.
The Bike Rim Tape HPM is our most popular and versatile rim tape. It has improved pinch resistance and was developed for double-walled rims. This rim tape can withstand a maximum pressure of 6 bars/87 psi, and comes with valve holes for the American (Schrader) valve or Presta valve. Available also in smaller sizes such as 20" for cargo bikes with smaller tires. Examples: 451/20″ and 406/20".

For more information and pricing
Please contact one of our sales representatives, we are present with own sales offices in Finland, Germany and Taiwan. We are also represented by agents in Italy, Poland, Netherlands, France, Belgium and China.
Contact details available in the link below!