Wanted! El- och automationsmontör / Sähkö- ja automaatioasentaja
THE DEADLINE HAS RUN OUT
Herrmans Bike Components Ltd is one of the leading European pioneers when it comes to developing components and solutions for the bicycle industry. Over 60 years of development and manufacturing, in close collaboration with European bicycle manufacturers, ensures the competence of our company, both for the needs of today and for the opportunities of the future. Herrmans Bike Components Ltd is a successful and growing export company in Jakobstad. About 130 talents work in our headquarters in Finland, Germany, and Taiwan.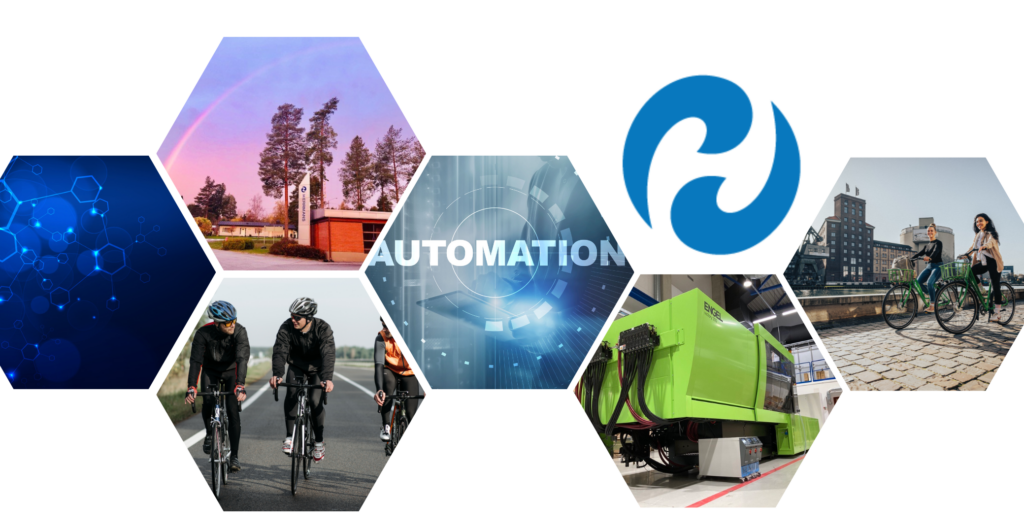 El- och automationsmontörer – se hit!
Nu söker vi Dig som har behörighet att utföra elinstallationer samt har erfarenhet av felsökning och utveckling av el och automation. Vi värdesätter en egen drivkraft och vilja att utvecklas. Är du därtill noggrann, prioriterar att färdigställa arbetsuppgifter samt utför ett kvalitativt arbete är du den vi söker!
Vi erbjuder dig en plats i ett kunnigt team i ett lokalt företag, som växer stort globalt. Du får även möjligheten att utvecklas genom utbildning och fortbildning inom vår egen produktionsutrustning.
Detta förväntar vi av dig:
Du är behörig för elinstallationer
Erfarenhet av felsökning och utveckling
En vilja att vidareutvecklas
Du värdesätter och utför snyggt och fullständigt arbete
Kommunicerar också på engelska i tal och skrift
Detta kan du förvänta dig av oss:
En plats i ett kunnigt team hos en global och lokal arbetsgivare
Möjligheter till kurser och skolningar inom vår produktionsutrustning
Trevliga kollegor att samarbeta med
Om detta låter som något för dej, ansök nu! Platsen blir fylld då vi hittar rätt person.
Har du frågor, kontakta Mats Wickman, Maintenance Manager på telefon +358401901177 eller via e-post på mats.wickman@herrmans.eu
---
Sähkö- ja automaatioasentaja – katse tänne!
Etsimme juuri Sinua, joka voit tehdä sähköasennuksia ja jolla on kokemusta häiriöiden selvittämisestä ja osaat kehittää sähkö- ja automaatioratkaisuja. Arvostamme oma-aloitteisuutta ja halukkuutta kehittyä eteenpäin. Oletko myös tarkka, järjestelmällinen työtehtäviesi suorittaja ja hoidat tehtäväsi perusteellisesti? Jos vastasit "Kyllä" olet etsimämme henkilö.
Tarjoamme Sinulle tehtävää osaavassa tiimissä paikallisessa yrityksessä, joka on kasvuvaiheessa globaalissa ympäristössä. Saat mahdollisuuden kouluttautua eteenpäin yrityksen omassa tuotantoympäristössä.
Odotamme Sinulta seuraavaa:
Olet valtuutettu tekemään sähköasennuksia
Kokemusta vianetsinnästä ja kehitystoiminnasta
Halukkuutta kehittää osaamistasi
Teet työsi huolellisesti ja tarkasti
Hallitset englannin kielen kirjallisesti ja suullisesti
Me puolestamme tarjoamme Sinulle:
Paikan osaavassa tiimissä globaalissa yrityksessä
Mahdollisuuden kouluttautua tuotantoympäristömme kurssien ja koulutusten muodossa
Tiiminjäseniä, joiden kanssa on mukava tehdä töitä
Jos sinulla on kysymyksiä, ota yhteyttä Mats Wickmaniin, , Maintenance Manager, puhelimitse +358401901177 tai sähköpostilla mats.wickman@herrmans.eu